The history of Cyklopen
In 2003, Kulturkampanjen began with the occupation of the old television house in Östermalm, which is located within the inner city of Stockholm. This house was 10 000 square meters large and had been left empty for ten years. The occupation ended with charges leading to sentences for illegal intrusion and the house was demolished, but the new relations and energies that had been created during the occupation continued.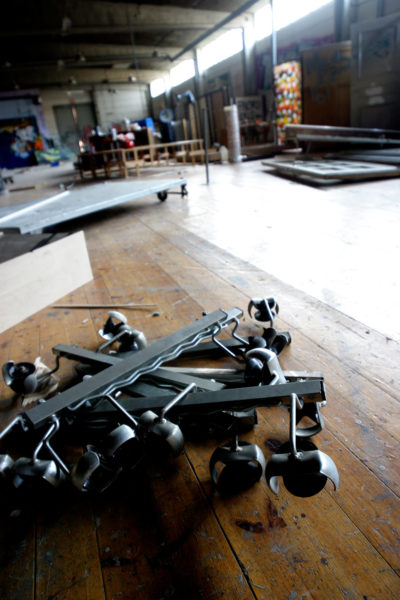 Back then Kulturkampanjen – The Cultural Campaign – was called Kulturmassakern, The Cultural Massacre. The name alluded to the ambition to challenge a profit driven and elitist notion of art. An important focus was to create a space that challenged hierarchies and distinct lines between producers and the audience, and also to create a space that would be easy to use, where different methods of sharing were in practice. Those ambitions have been central for the group ever since, even though the name has changed.
That same year Kulturkampanjen started to work on getting the possibility to reconstruct the old halt at the Hammarbyhöjden Subway station into a cultural venue. We handed over proposals to concerned authorities, but in October 2004 the house was demolished. The group soon after concentrated on the abandoned conservation area Albano Smide close to Stockholm University. Quietly a lot of people started to renovate the house, but those ambitions were disturbed by other people's desires to demolish the house at the same time. Finally a fire occurred that destroyed the whole building.
Kulturkampanjen resumed the contact with politicians and demanded a house, but instead of a yes or a no we were met by a constant maybe. Eventually someone came up with the idea that we could rent land and build upon it ourselves. We found a place in Högdalen, a suburb built in the 50s south of Stockholm, and despite the fact that the Vantörs municipal council rejected our proposal, we were approved by the city planning council – and got a building permit for five years.
The construction was open for everyone to join and participate in. The construction work was executed by different small groups that had responsibility for different phases. A lot of new experiences were made, new kinds of relations appeared (the kind that is possible when profit is not the goal and when there is no boss). Along the construction process a new collective knowledge was formed. The construction of the house was financed through parties, concerts and one loan from JAK-banken, a financing method that in many ways resembled the way the Folkets Hus (The Community house)-movement was funded 100 years earlier.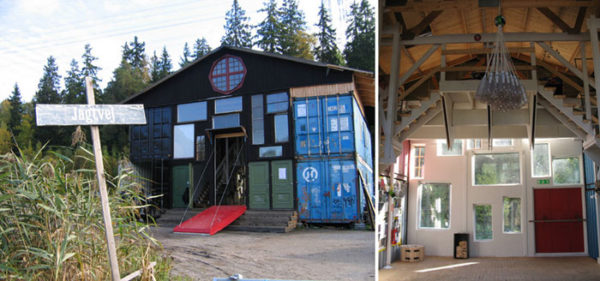 It took two years, but by August 2007 the house Cyklopen – named after its round window – was open. The process was slow at first due to exhaustion after years of building, and along with the lack of experience in running a self-managed social center, but finally interesting stuff started to take place in the shadows of Högdalstoppen. The house was filled with seminars, workshops, clubs, concerts, festivals, a community kitchen and more.
After one year some neo nazis decided to burn down the house the same day that Nätverket mot Rasism – The Network Against Racism – had planned to have a meeting there. Luckily the meeting was cancelled – this was not officially announced – and no one got hurt, but nonetheless the house was totally demolished and burned to the ground.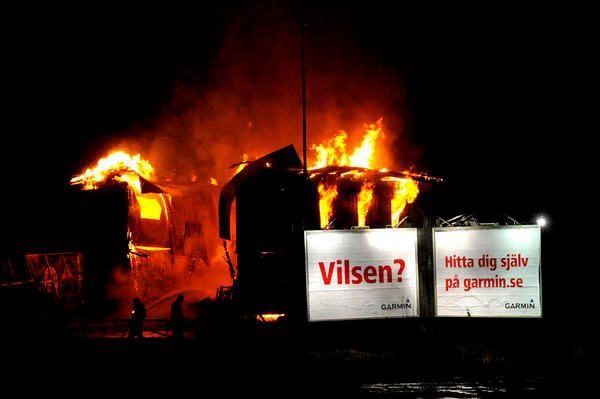 Despite the tragedy, Kulturkampanjen had no ambition to give up. Instead demonstrations were held every Monday and a lot of work was put into finding out what conditions would be necessary for a new house to be resurrected. During the first weeks after the fire we got support from different cultural venues and squats all around Europe. They took this matter seriously and saw it as an attack towards a free space for culture, which had been destroyed by the far right. Even today we are still grateful for all the support that came to us then.
During the next three years the group worked on getting money, finding land, discussing with politicians and imagining and drawing up what kind of new space that would be needed. Many thoughts and ideas were around. Should the house be standing in water? Could it be built in Botkyrka, or should we aim for the center of Stockholm? Once again we attended plenty of meetings with politicians concerning issues about land, building permits and much more. And after all sorts (!) of troubles we once again got a temporary building permit close to the old lot in Högdalen.
This time it was decided that at least three persons from Kulturkampanjen should be at the construction site each day, to provide some sustainability in the work. The task for these three persons was foremost to know what had to be done and to help other persons get into the work. Some days there were two persons there, sometimes 40, and after three summers of construction 100s of people had been involved in building the new cultural venue/social center in Högdalen.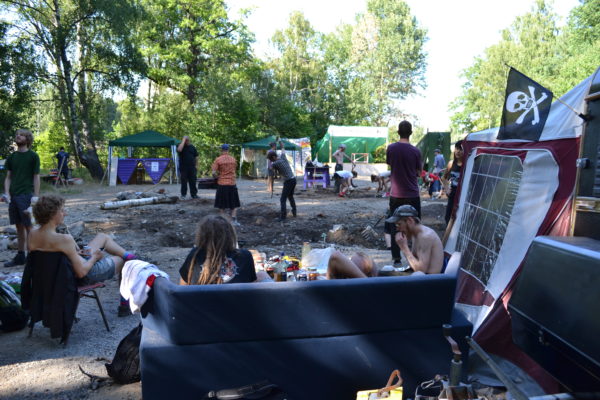 If the old house design came out of pragmatics, from what could be found, cheap and sustainable, this house was inspired by a turtle. It should be cute and welcoming when it´s open, and protected when closed. The primary body consists of glulam beams reinforced by steel.
In September 2013 the new house was ready, and the opening was attended by over 2000 people. The house is managed by big assemblies that are held every second week – these meetings could be described as the house's heart and lungs – where decisions are taken through consensus. These meetings are open for everyone to join, but to become a member of the group (which means that you have to clean the house, but also can use it) you have to attend thess meetings and be active in the house for around three months. There are also subgroups that deal with concerts, sound, clubs, renovating, gardening and and managing the library. These subgroups have a lot of freedom of their own.
We recently celebrated our two year anniversary, and the house is changing constantly with the people that use it. The billboard outside the house states:
Cyklopen is an autonomous socialist cultural center. We want to be a glimpse of something other, something better, and to be a part of the global movement that struggles to put the visions of another world into reality

If you want to be a part of creating the house or have any questions please contact us.
Email: [email protected]

We are about 15 active members trying to do our best to manage the building as the non-profit organization Kulturkampanjen. We need more members in order to keep the place open on a more regular basis and to power even more culture! Due to studies, lack of time, childbirth, wage labour, and life in general we are in need of many new excited members that will keep the building running. When becoming a member of  Kulturkampanjen, you can be responsible for various events and can, if you want, join different groups of which all are passionate about their work.
We are grateful for any help we might get, and everyone is free to decide over how much they wish to commit themselves. If you wish to join an already existing group, see the list below. We encourage the creation of new groups that could provide Cyklopen with content.
Contact us here in the house or through
[email protected] or on Facebook if you have any questions and remember that Cyklopen wants you!
One Eyed Punks arranges punk concerts
[email protected]  |  facebook.com/oneeyedpunks
the library group runs the library and host the popular
library bar [email protected]  |  facebook.com/cyklopenbibblan
the garden group takes care of the gardening inside and outside of Cyklopen
the maintenance group construct, fix, improve, and maintain the building Cyklopen
the movies & junk food group shows movies and serve junk food. Get in touch with ideas [email protected]
the media group makes flyers, writes fanzines, updates Facebook, Twitter, Instagram and cyklopen.se + the info mail
the event manager answers booking requests and manages the calendar [email protected]
The sound group handles the sound equipment, carries cables and makes sure the sound sound as it should
the economy person takes care of the numbers
the market group occacionally arranges popular markets where locals, artists and others sell their stuff [email protected]

Maybe you have an idea of a group that is missing? Or you want to join an existing one. Childrens activities, samba nights, dancing lessons.  Bring us your ideas!
Cyklopen decides about stuff at open meetings. If you are curious and might want to join you are welcome. We need more people from different backgrounds to make this a truly free cultural and social centre which is organized by those who use it.