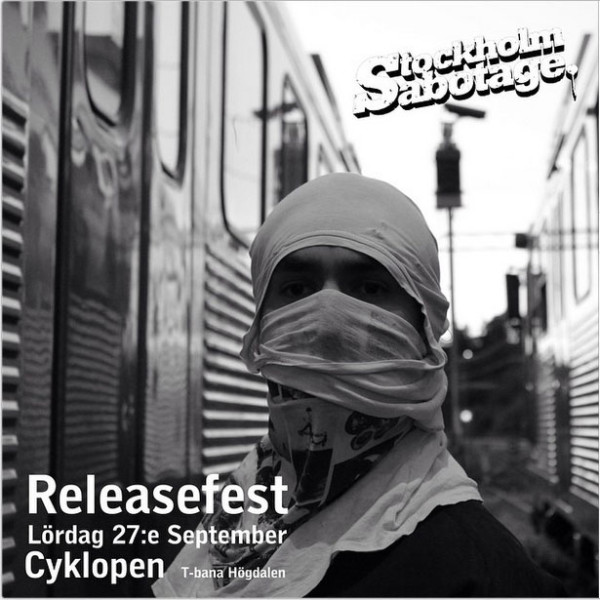 Missa inte releasen av Stockholm Sabotage!
Nu på lördag 27 september klockan 18.00 – 23.00
Det kommer finnas någonting att dricka för en billig peng.
· 18:00-19:00 För-försäljning av filmen till specialpris
· 19:00-20:05 Filmvisning
· 20:05-23:00 Releasefest! Stockholm Sabotage är en ny graffiti DVD som är fylld till 100% med Stockholmståg och vi tar er igenom detta i en fullspäckad action på 65 minuter!
När vi gjorde filmen strävade vi efter att filma med hög kvalité med schyssta actionscener i Stockholm där stress och tidsbrist är kritiska element.
#graffiti #skadegörelse #stockholm #sabotage #tags #graff #bombing #2014
————————————————————————————————————————————————————————————
ENGLISH BELOW:
Don't miss out on the upcoming releaseparty!
There will be something to drink  at a good price.
· 18:00-19:00 Pre-selling of the movie to a special price
· 19:00-20:05 Movietime
· 20:05-23:00 Releaseparty! Stockholm Sabotage is a new graffiti DVD that's full of 100% Stockholm trains and we take you thru this with 65 min fullpacked of actions! When producing we strived on filming in high quality with nice actions and great panels in a Stockholm where stress and lack of time is critical factors.
#graffiti #skadegörelse #stockholm #sabotage #tags #graff #bombing #2014