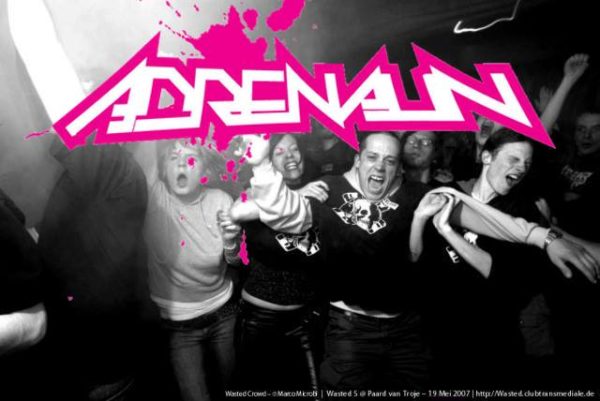 https://www.facebook.com/events/1725901557633100/
Lör 23/7 15:00 – 03:00
Skriv upp dig här:
http://haffla.com/form/00717-adrenalin
WHOOOOP!
Fuck Heads!!!
Det är dags igen! Efter lång tids vila i underjorden har ADRENALiN återupptsått och återupptsår med inget mindre än en endags-festival!!
ADRENALiN är Sveriges första Breakcore klubb! \m/
Här finns det inga gränser för hur tungt, hård eller kaotisk musiken får vara. Fullt ös, medvetslös är vårt motto!
ADRENALiN kör genres som DnB, dubstep, Raggacore osv. Och Breakcore of course!
Datumet är spikat, 23/7, så boka in det och se till att ta ditt studsande jävla ärshle dit! :D
Pris: 100:- (rena rånet!)
Ålder: 18
ACTS:
***BROKEN NOTE*** (UK)
Broken Note stand at the forefront of well-crafted heavy music: Folding cinematic sound design and towering bass around aggressive beats informed by heavy metal and dark Drum n Bass. Layered distorted leads and filtered reeses are immaculately placed between flurries of staggering rhythms, evoking auditory hallucinations and manifesting a deeply detailed sonic landscape. Their incredibly tight flow carries each weighty piece upon a platter of perfectly syncopated beats through beautifully decaying breakdowns with an underlying sense of dark nostalgia. Seamlessly shifting between tempos, they draw from the bleak sonic aesthetics of the Industrial landscape to deliver astonishing heaviness that's as razor sharp at clubs and festivals as it is in the vast, dilapidated warehouses of the underground.
THIS IS DAA SHIT!!!

FUNKY TUNA (crazy happy techno dance)

BRATKILLA b2b CORPSE (breakcore)
https://www.facebook.com/BratkillaOfficial/?pnref=lhc

https://www.facebook.com/DJ-Corpse-163995210359246/?fref=ts&__mref=message_bubble
XÄCKSECKS (breakcore)

1ST SCIENCE
1st Science (aka Henrik Helenius) startades 2004 som ett sidoprojekt för göra några remixer på forumet backtotheoldskool.co.uk men det resulterade istället i många utslitna samplers och flera släpp på brittiska indielabels.
1st Science sound är väl förankrat i det tidiga nittiotalets breakbeat hardcore med inspiration från akter som The House Crew, Acen, 4 Hero, Noise Factory och Shut Up & Dance m.fl. 1st Science blandar friskt influenser från gammal hip hop, soul och reggae och har ett melodiöst och hyperaktivt driv packat med breakbeats.

MARCANTA
Imagine the foundation of the sound being mechanical and monoton rhythms taken from a malfunctioning hydraulic press. The drums and percussion plated around these patterns are spastic, pullulating and hyserical in tension and lush, laser like and sharp in sound. The ambience is from a marshalling yard that only wind now visits. Alarming and eerie. The melodies from old circuit chips used in retro game consoles. Glue this together with oil paint and connect it with wires and you have the recipe for a war tank that clears the dancefloor of all but a few loyal foot soldiers who reign in the smoke and fire!
ACID SUSSI
Hörde acid house för första gången i London 1988 och har varit fast sedan dess. Räkna med klassisk acid, chicago house och acid techno med inslag av hip house i setet.
Mer kul kommer inom kort!
Men vi räknar med att du kommer vara där!!!
FÖR FAAAAAAN VAD GALET KUL DET KOMMER BLI!
ÄNTLIGEN :O
// ADRENALiN crew