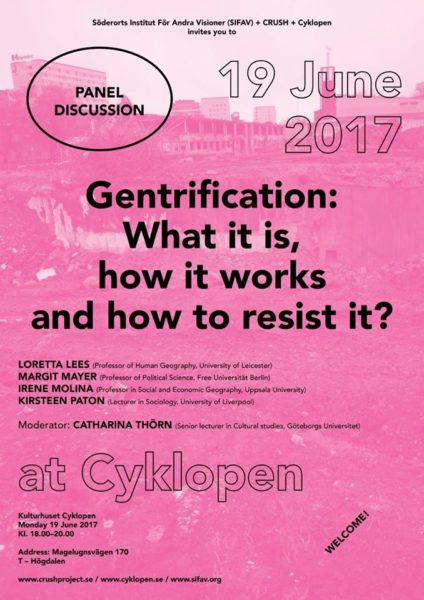 19 juni 17.30 – 21.00
Vad är gentrifiering? Hur går det att göra motstånd? Varmt välkoma till ett panelsamtal om ojämlik stadsomvandling, strategier för motstånd och rätten till staden. Panelsamtalet startar 18.00 och sker på engelska, innan och efter finns det mat och dryck.
Gentrification: What is it, how it works and how to resist it? Welcome to a panel discussion about uneven city renewal, strategies for resistance and the right to the city. The discussion starts in 18.00 and is in English, before and after there is food and beverages.
Paneldeltagare:
Loretta Lees är professor i Humangeografi vid University of Leicester och har länge forskat om gentrifiering både som en global och lokal process. Hon har också bidragit till att ta fram en anti-gentriferingshandbok för council estates i London.
Margit Mayer är professor i Political Science vid Free Universität Berlin och forskar om social rörelser, protester och nyliberal urban utveckling.
Irene Molina är professor i Kulturgeografi vid Uppsala universitet och forskar om staden som en plats för maktrelationer med särskilt fokus på rasifiering.
Kirsteen Paton är sociolog vid Liverpool University och forskar om gentrifiering med särskilt fokus på arbetarklassen.
Moderator: Catharina Thörn, docent i kulturstudier vid Göteborgs Universitet.
Arrangörer: Söderorts Institut För Andra Visioner (SIFAV), CRUSH och Cyklopen