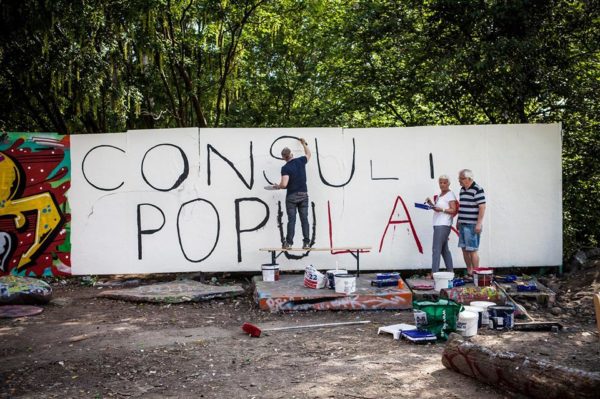 8 juli 1973 i diktaturens Uruguay blev Walter Medina, bara 16år gammal, mördad av en polis. Han blev skjuten i ryggen när han på en mur skrev CONSULTA POPULAR (folkomröstning) som en protest.
Walter Medina var politiskt aktiv, skrev poesi och spelade teater. Nu håller det internationella socialistiska konstnätverket BadArt en konstfestival för att hedra hans minne. Var med du också!
Det kommer bland annat att bjudas på livemusik och poesi och under dagen gör vi gemensamt en liknande väggmålning som Walter gjorde.
Vi kommer att sälja dricka och uruguayansk mat för att täcka omkostnaderna.
Vill du uppträda? Hör av dig till [email protected]
Välkommen!

—–
July 8, 1973, in the dictatorship's Uruguay, Walter Medina, just 16 years old, was murdered by a police. He was shot in the back, while writing on a wall, CONSULTA POPULAR(referendum), as a protest.
Walter Medina was politically active, wrote poetry, and performed theater. Now, the international, socialist artnetwork BadArt is arranging an artfestival as a tribute to his legacy. Join us!
There will be live music and poetry reading, and during the day we're making a mural together, like the one Walter was making in his final moments.
We'll be selling drinks and Uruguayan food to cover our expenses.
Do you want to perform? Get in touch with [email protected]
Welcome!
Facebook: https://www.facebook.com/events/165299404008196/