Cats & Dinosaurs är ett vänsterfeministiskt swingkollektiv från Göteborg som blandar den objektivt bästa musikstilen med den objektivt bästa politikstilen. Resultat: dansfest!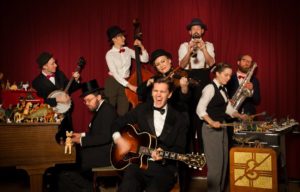 20/4 kl 19-23
Inträde 80-150 sek
Sedan valdagen 2014 har dom basunerat ut sitt revolutionära budskap med en tonårspunkares nakna intensitet och en bluestants sargade hjärta, med en stadigt växande skara av både beundrare och belackare. Deras fötter är stadigt planterade i swingtraditionens radikala bakvatten, men på repertoaren har swingklassikerna sedan länge konkurrerats ut av den egna plakatpolitiska sångskatten. Alltid framförd Lekfullheten, svänget, dansglädjen och den politiska ångesten är deras musikaliska ledstjärnor. Som om allt detta inte vore nog utlovas dessutom agiterande mellansnack mellan låtarna!
http://www.catsanddinosaurs.com/
19-20
Prova-på-kurs i queer lindy hop. Alla får lära sig att både föra och följa, vilket gör att alla får dubbelt så roligt på dansgolvet! Inga förkunskaper krävs.
20-23
Konsert med Cats and Dinosaurs – vänsterfeministisk swing när den är som bäst! Mellan bandseten håller vi igång dansgolvet och DJ:ar gamla swingfavoriter.
Om lindy hop:
Pardansen lindy hop uppstod i 1920- och 30-talets New York, men dansas idag över hela världen. Det är en energisk och kreativ dans som innehåller stora delar improvisation och som oftast dansas till swingmusik.
IN ENGLISH
Cats & Dinosaurs is a socialist-feminist swing collective playing original lindyhop dance music with political lyrics in Swedish, AKA "the worlds most radical swingband". They mix the objectively best politics with the objectively best music. Result: dance party!!!!
http://www.catsanddinosaurs.com/
About queer lindy
The partner dance lindy hop has its roots in 1920's and -30's New York, but is danced all over the world today. It is an energetic and creative dance based on improvisation and most often danced to swing music. Queer lindy means that everyone learns how to both lead and follow and switch between the roles during the dance class.
7-8 PM
Queer lindy taster class, for people who have never danced before. Everyone learns to both lead and follow, making dancing twice as fun!
8-11 PM
Concert and dancing to Cats & Dinosaurs – feminist, left wing swing at it's finest. Between band sets we will keep the dancefloor warm DJ-ing old swing favourites.
80-150 sek
18 år
Välkomna!