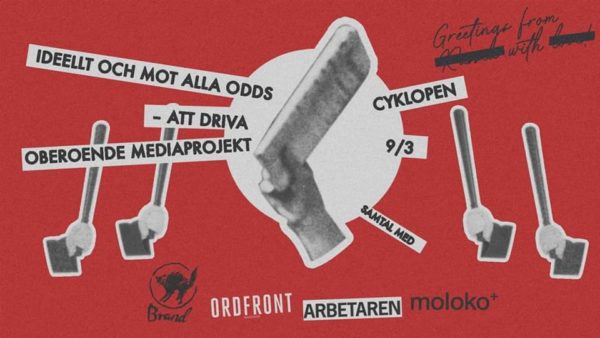 9/3 2020. 18.00-22.00

För svenska, se nedan.
During the past five years, the independent media collective 𝗺𝗼𝗹𝗼𝗸𝗼 𝗽𝗹𝘂𝘀 has become a bright new light in the Russian journalism landscape. Without external funding, and facing regular harassment from authorities and right wing groups, the young collective has been bringing high quality journalism with a libertarian left perspective to a growing audience. The collective's past print issues on the topics of Terrorism, Narcotics and Revolution sold out quickly and have had to be reprinted several times. Their coming issue on Patriarchy is set to be released in March.
On Monday, March 9th, several members of the 𝗺𝗼𝗹𝗼𝗸𝗼 𝗽𝗹𝘂𝘀 collective will come to Cyklopen to talk about their work, and discuss the challenges and possibilities of independent, small media in Russia, Sweden and beyond, with representatives of the Swedish media outlets 𝗕𝗿𝗮𝗻𝗱, 𝗔𝗿𝗯𝗲𝘁𝗮𝗿𝗲𝗻 and 𝗢𝗿𝗱𝗳𝗿𝗼𝗻𝘁.
The discussion will be held in English.
∼∼∼∼∼∼∼∼∼∼∼∼∼∼∼∼∼∼∼∼∼∼∼∼∼∼∼∼∼∼∼∼∼∼∼∼∼∼∼∼∼∼∼∼∼∼∼∼∼∼∼∼∼
IDEELLT OCH MOT ALLA ODDS
– ETT SAMTAL OM HUR MAN LYCKAS DRIVA OBEROENDE, SMÅ MEDIEPROJEKT MED ERFARENHETER FRÅN SVERIGE OCH RYSSLAND
De senaste fem åren har det oberoende mediekollektivet 𝗺𝗼𝗹𝗼𝗸𝗼 𝗽𝗹𝘂𝘀 blivit en ny ledstjärna i det ryska journalistiklandskapet. Utan finansiering utifrån, and utsatt för ständiga trakasserier från myndigheter och högeraktivister, har det unga kollektivet levererat högkvalitativ journalistik med ett frihetligt vänsterperspektiv, till en växande publik. Kollektivets tidigare tryckta temanummer på Terrorism, Narkotika, och Revolution, såldes ut snabbt, och har behövt tryckas i flera upplagor. Det kommande numret om Patriarkatet, ska släppas senare i mars.
På måndag den 9 mars, kommer flera medlemmar ur 𝗺𝗼𝗹𝗼𝗸𝗼 𝗽𝗹𝘂𝘀 kollektivet att besöka Cyklopen, för att berätta om sitt arbete, och diskutera utmaningarna och möjligheterna med att bedriva oberoende, små media i Ryssland, Sverige och annorstädes, med representanter från svenska 𝗕𝗿𝗮𝗻𝗱, 𝗔𝗿𝗯𝗲𝘁𝗮𝗿𝗲𝗻 och 𝗢𝗿𝗱𝗳𝗿𝗼𝗻𝘁 𝗠𝗮𝗴𝗮𝘀𝗶𝗻.
Samtalet kommer att ske på engelska.
Med finansiellt stöd av Svenska institutet.