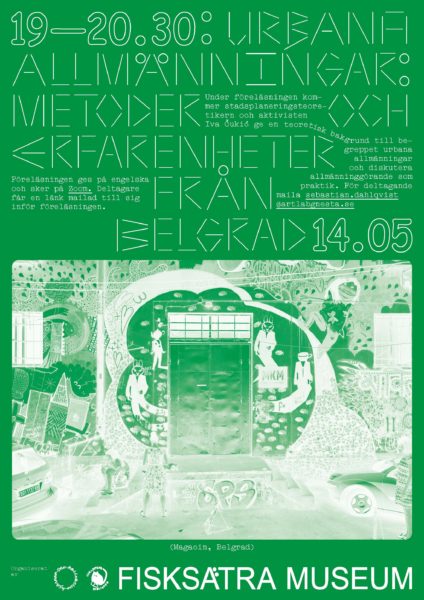 🌸 14 maj kl. 19.00-20.30 🌸

Eng. below
Samtidigt som Covid-19 tvingar städer att sluta sig och stänga ned så går det att ana ett uppsving för det gemensamma. Kollektiva praktiker och nya gemenskaper blir sätt att både klara vardagen och föreställa sig andra möjliga sätt att organisera grannskapen. Den enskilda och gemensamma sårbarhet som nu blir synlig tydliggör solidariteten som en akut livsnödvändighet, men också som en horisont. Vad kan den reva i tiden vi nu befinner oss i erbjuda för möjligheter att samlas och tänka om arbete, gemenskap och självorganiseringens potential? Kanske går det mitt under pågående katastrof att säga att det våras för allmänningarna.

I sin föreläsning Exploring the Urban Commons: Case of Belgrade kommer stadsplaneringsteoretikern och aktivisten Iva Čukić ge en teoretisk bakgrund till begreppet urbana allmänningar. Fokus ligger också på praktiker och metoder från det användarstyrda kulturhuset Magacin i centrala Belgrad och de enorma protester som stadsomvandlingsprojektet Belgrade on Water genererat under de senaste åren.

Föreläsningen ges på engelska och sker på Zoom. Deltagare får en länk mailad till sig inför föreläsningen. För deltagande maila [email protected]

—

Fisksätra museum har intresserat sig för och lyft fram allmänningar sedan 2014. Föreläsningen är en del av det arbetet, och en fortsättning på långtidsundersökningen Gör allmänningar överallt som hösten 2019 initierats av museet tillsammans med Elof Hellström. Den är dessutom en smygstart av Den Kollektiva Hjärnans nätverksträff som under hösten organiseras i samarbete med Not Quite och som undersöker frågor om allmänningens och det gemensammas historia, samtid och framtid. Utöver detta så organiseras kvällen också av kulturhuset och den urbana allmänningen Cyklopen i Högdalen, som 2015 organiserade ett samarbete med Ministry of Space kring bland annat urban rättvisa.
Iva Čukić har en doktorexamen från fakulteten för arkitektur i Belgrad och hennes forskningsområden inkluderar urbana allmänningar, nya modeller för styrning, stadsomvandling och självorganisering. Dessa områden arbetar hon med genom att sammanföra och korsa akademiska och aktivistiska perspektiv. Hon är medgrundare till och medlem i kollektivet Ministry of Space (Ministarstvo prostora) som bildades 2011, med målet att uppmuntra och främja medborgarnas röster kring stadsplanering och resursfördelning. Hon är också en aktiv medlem i kulturcentret Magacin, en självorganiserad allmänning i Belgrad, och för närvarande också koordinator för plattformen Fund Action – en europeisk participatorisk plattform för bidrag till aktivism samt aktiv i en mängd regionala och internationella organisationer som arbetar med staden, självorganisering och allmänningar.
– – –
While Covid-19 is forcing cities to shut down, it has also triggered a new wave of commoning and urban commons. Collective practices and new communities pave ways to cope with everyday life as well as to imagine other possible ways of organizing the neighborhood, city and society. The vulnerability which has been made visible makes it clear that solidarity is an urgent necessity of life but also a horizon. Perhaps, in the midst of this ongoing catastrophe, it´s possible to say that there is a boost for the urban commons.
In her lecture the researcher and activist Iva Čukić will give a theoretical background to the concept of urban commons. In addition, examples are given of the user-controlled, self-organized cultural center Magacin in central Belgrade and the huge protests generated by the urban development project Belgrade on Water.
The lecture is held in english and takes place on Zoom. Participants will receive a link to join the digital lecture hall. in order to participate send an email to: [email protected]
The lecture is a continuation of the long-term exploration Make commons everywhere, which was initiated during the fall of 2019 by Fisksätra museum in collaboration with Elof Hellström. It is also a preview to this years assembly organized by The Collective Brain (Den kollektiva hjärnan) in collaboration with Not Quite, which happens this fall and sets out to explore questions regarding the commons of the past, present and future. It´s also organized by the cultural space and urban common Cyklopen, that
Iva Čukić graduated from the Faculty of Architecture in Belgrade where she earned her doctoral degree in urban planning. The areas of her research include urban commons, new models of governance, urban transformation and self-organisation, which she pursues through intersecting academic and activist perspective. She is co-founder and a member of the collective Ministry of Space
(Ministarstvo prostora) formed in 2011, with the aim to encourage and foster citizens' participation
in defining the public interest in urban and spatial planning and urban resource management. She
was one of the founders of Don't let Belgrade D(r)own movement and she was taking part in its
activities until the end of 2017. She is also an active member of Socio-cultural centre Magacin, a self-
managed common space in Belgrade that operates outside the mainstream public and commercial
sector, accommodates diverse communities and holds great social and cultural value in the city.