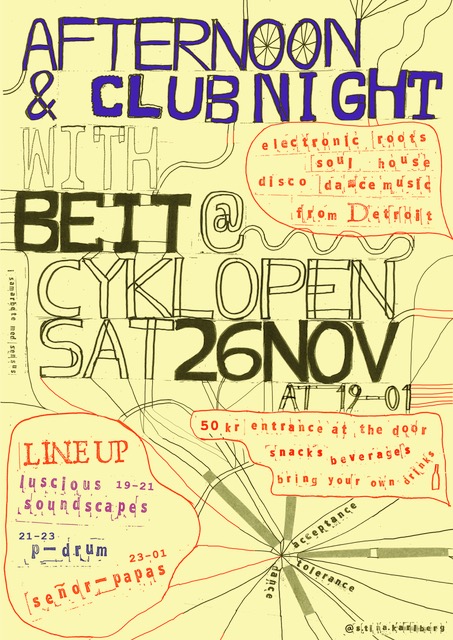 CLUB EVE with BEIT Kultur @ Cyklopen
SAT 26th NOV 18.30-01
Kulturhuset Cyklopen
T-bana: Högdalen

LINEUP:
Luscious Soundscapes
P-drum
Señor Papas

BEIT KULTUR is a non-profit cultural association based on lust and love by local volunteers, with a vision to organize and work for a rich cultural life in Söderort.
Beit means home, in arabic and hebrew. We are creating spaces for people and artists from the global majority with a need to share and spread artistic expressions. Through a strong grassroots movement, we are promoting and building communities through a variation of cultural happenings.
This evening we are blessed with the honor to host with Cyklopen in Högdalen.

Expect music genres that will make you smile! Nostalgia with classic disco and soul sounds will be guaranteed. We will create a beautiful, intimate and sweaty atmosphere for you!
Donation based entrance at the door (rek 50 kr)
Beverages (non-alcoholic) by BEIT Kultur
Fresh fruits / snacks / meza by BEIT Kultur
If you want; bring your own booze
Don't forget your dance people, it's all about the music and the dance floor!
The event will take place in Boxen, so space is limited. Come early to secure you spot!