När:
7 juni, 2014 kl. 10:00 – 14:00
2014-06-07T10:00:00+00:00
2014-06-07T14:00:00+00:00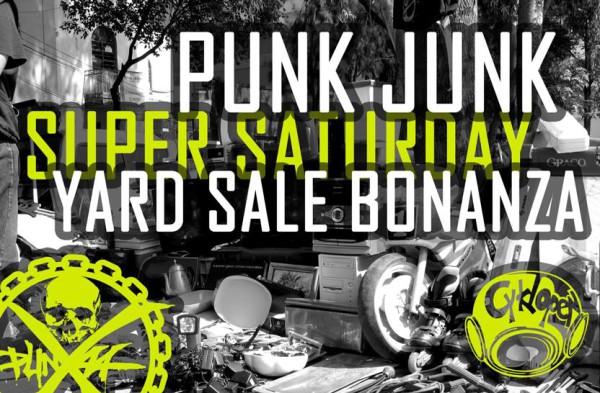 Denna månadens svarta marknad hålls samtidigt som
PUNX 44-HIGHWALLEY INVASION, en 2-dagars punkfestival som arras av Punx 44.
Detta innebär ett namnbyte till: PUNK JUNK SUPER SATURDAY YARD SALE BONANZA!
Det är i stort 2 skillnader mot den vanliga svarta marknaden:
1. Borden är gratis, och det är först till kvarn, eller ja, först till bord som gäller
2. Marknaden håller på mellan 12.00 & 16.00 (istället för 11.00-16.00 som vanligt)
Såhär beskriver Punx44 själva marknaden:
Loppis-succén från förra året lever vidare! I samarbete med Cyklopens Svarta Marknad kör vi massiv loppis lördag 7 juni! Loppis, BBQ, live-musik, fika, spray-spektakel & MYSPYS!
Loppisen är öppen för ALLA (både säljare & köpare, festivalbesökare eller inte) och vi vill såklart att så många som möjligt skall komma och fynda, köpslå och sälja: ÅTERVINNING FOR THE WIN!
Alla ni som brukar sälja på Svarta Marknaden är välkomna som vanligt, enda skillnaden är att det inte kostar något. Jippi!
Bord finns men i begränsad upplaga, vill du sejfa förslår vi att du tar med eget bord eller en filt eller dylikt som går att ha på marken. Ingen anmälan behövs för säljare, men kom gärna 1h timme innan loppisen startar!
Distron som vill ha ett bod på loppisen/festivalen, dra ett mejl till: punks44festival (a) gmail (dot) com
Vi drar igång runt 12:00!
Bjud in alla dina polare till loppisen, the more [junk] the merrier!
Festivalinfo:
http://tinyurl.com/pjbnshy
http://punx44.wordpress.com/
—————————————————————————————————————————————————–
English:
Punx 44 proudly presents: PUNK JUNK SUPER SATURDAY YARD SALE BONANZA!
Last years flea market was a great success, so we decided to keep the tradition alive this year as well! Saturday the 7th of June there's gonna be a flea market with BBQ, live music, graffiti and all kinds of sweetness!
The flea market is open for everybody (sellers, buyers, visitor of the festival or not) and we hope that as many as possible will come and participate. Recycling for the win!
Tables will be available, but they are limited. So if you wanna be safe we suggest that you bring a blanket or something, to put on the ground. You do not have to tell us in advance if you wanna sell stuff, but be there an hour or so before the flea market starts! Distros who wanna be at the festival or flea market, shoot us a mail at punks44festival (a) gmail (dot) com
The fun starts about 12:00! So bring your friends and family, the more the merrier!
Festival info:
http://tinyurl.com/pjbnshy
http://punx44.wordpress.com/