När:
18 augusti, 2017 kl. 19:00 – 23:00
2017-08-18T19:00:00+02:00
2017-08-18T23:00:00+02:00
---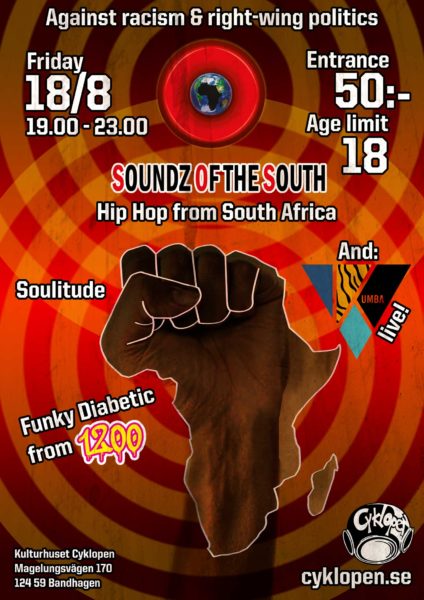 Soundz of the South är ett kulturaktivistkollektiv från Kapstaden, Sydafrika som använder sig av Hiphop för att skapa medvetenhet.
LIVE:
SOS- Soundz of the South
Soulitude
Kumba
DJ:
Funky Diabetic från 1200
Det blir en kväll fylld av anarkistisk tung HipHop med SOS + Soulitude, även han från Sydafrika + svensk rap med Kumba + sköna Hip Hopbeats med Funky Diabetic från 1200!
Kumba börjar kl 20, så kom i tid!
Resten av texten är på engelska, enjoy!
---
We´re very happy that the guys from Soundz of the South are coming back to us among many other stops on their Europe tour! They visited Cyklopen 3 years ago, we had a successful night and always wanted them to come back.
FRIDAY 18TH OF AUGUST
19.00-23.00
AGE LIMIT: 18
ENTRANCE: 50:-
CHECK THEM OUT:

AND CHECK KUMBA OUT: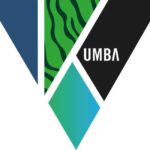 AND CHECK OUT FUNKY DIABETIC:

This is what SOS say about themselves:
WHO WE ARE?
 Soundz of the South is an anarchist collective working to build an international working-class counter-culture that is anti-authoritarian, anti-capitalist, anti-racist, and ant-sexist. We seek to foster new social values and new forms of collective organising, which will become the socio-political infrastructure of the free society
WHAT WE DO? 
Our collective convenes learning spaces in which class consciousness, unity, and solidarity amongst activists are built. We also facilitate the development of cultural activist tools and the social practices that go with them. To this end, we regularly host shows, promote public space interventions, and facilitate direct counter-cultural actions.
HOW COME HIPHOP?
Our work is rooted in urban communities in 6 African cities. In our experience of organising on the continent, Hiphop culture is the most influential youth culture and  holds the greatest counter-cultural potential for fighting oppression. Hiphop is thus our initial frame for engaging young cultural activists.
These efforts will help us fundraise some resources in order to consolidate the solidarity network, the  work of the Afrikan Hiphop Caravan and as well as build the Mkhululi Freedom Station project at Community House
WHY A 
EUROPE

 

TOUR

 NOW?

In the last few years, catalysed by a global recession, 

Europe

 has experienced the resurgence of right-wing politics that has once again flared the flames of racism, xenophobia, sexism, violence and all other social ills associated with fascism.  This has had a profound negative effect on the livelihoods of thousands of Africans living in 

Europe

. Whilst the rise of the right might be more visible in 

Europe

, it is also apparent on the African continent itself mostly manifesting as a nationalism that  turns African against African. It is our conviction that in order to defeat this global scourge, an international solidarity network of antifascist activists, learning from each other's organising experiences is necessary, now more than ever. To build this solidarity network, we have undertaken to 

tour 

European

 countries, so that we learn and exchange experiences, and build a cohesive transnational movement.