/// FRIDAY DECEMBER 15TH 2017
// TEDDYBEARS (Live/ punk set)
// SHITKID (Live)
// GESTURES (Live)
// AGE: 18+
// 20.00 – 01.00
// 150kr (only 250 available)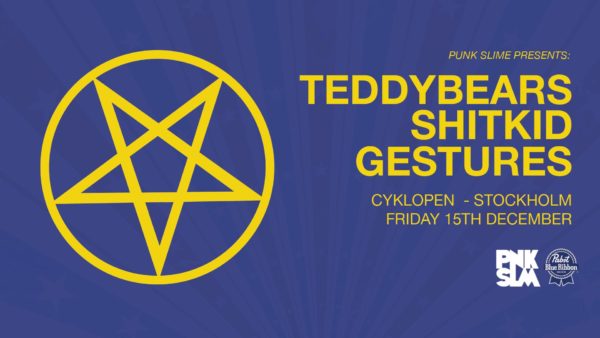 Tickets:
https://billetto.se/en/e/pnkslm-teddybears-shitkid-gestures-tickets-246272
What's more festive than a release party for Teddybears' vinyl re-release of their debut LP "You Are Teddybears"?
Klas, Arve, Jocke and Glenn are getting the band back together for one very special show at the legendary Cyklopen- seriously not to be missed.
Joining Teddybears will be sets from the phenomenon that is ShitKid, and Stockholm's best garage punk band Gestures. Plus a range of very special guests DJing inbetween the live sets.
Tickets are only 150kr, limited to 250, and MUST be bought in advance- no tickets will be available on the door (and w're expecting them to sell out pretty fast anyway.)